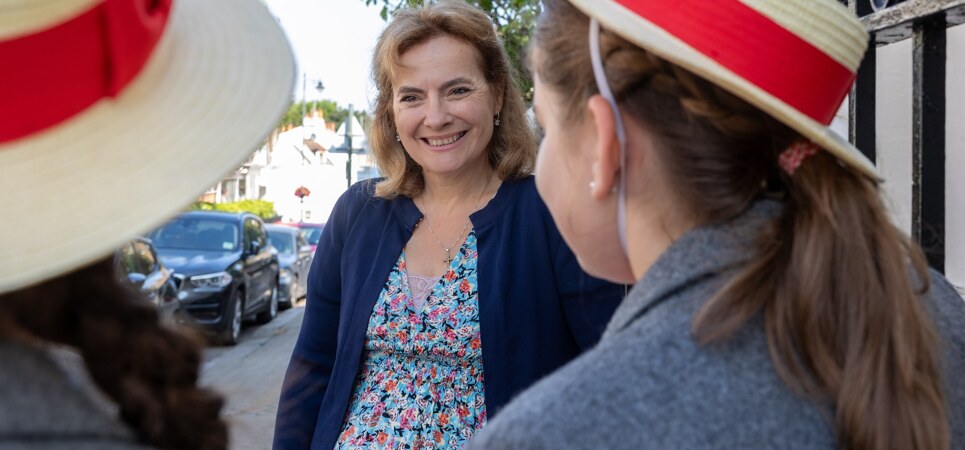 Let the educational journey begin…
I am delighted to have recently joined as head of the Old Vicarage School and once again be part of the Richmond community.
In my previous post, as Deputy Head of the Dragon School, Oxford, I was the advisor for girls' senior schools in addition to being responsible for pastoral care at the school. During my 30 years in education, I have taught at senior and prep schools, both co-ed and single sex. This has given me a valuable insight into girls' education throughout their journey from reception through to university.
At the Old Vicarage we provide a highly individual and nurturing environment of classes of no more than 15, where girls develop a love of learning with which to take the first steps on their own academic journey.
At the last open morning at the Old Vicarage, I was asked why I had decided to join a girls' school. Having had a daughter, who went to a GDST school, I feel I can answer this with confidence. There is reliable evidence to show that single-sex education for girls leads to stronger academic achievement and better performance in examinations. In addition, this environment provides for girls to thrive without risk of gender stereotyping, giving them the confidence to choose subjects and interests based solely on ability and interest. Girls coming through this pathway have more confidence to take risks, to innovate, take on leadership roles and ultimately be better prepared for university and their future career. Girls gaining their education in a single-sex setting, tailored to meet their individual needs, become confident, ambitious and empowered.
The Old Vicarage School nurtures essential skills for girls where everyone is proud to play their part in creating an active, vibrant, dynamic and ambitious learning environment. The broad and stimulating curriculum is led by specialist teachers who develop strong relationships with the girls, understanding their individual learning profile and social and emotional needs. Excellence is demonstrated in results with our current year 6 having been awarded 11 scholarships to prestigious senior schools.
In addition to academic success, we have achieved sporting excellence in national swimming, tennis and football, and of particular note this year, the Old Vicarage triumphed in both netball and swimming to become Richmond Borough Champions. As such, our girls have represented the Borough at the London Youth Games. We teach our girls that there are no limits in what they can achieve and they support each other in their ambitions.
The education journey of an Old Vicarage girl starts at our own nursery, affectionately known as the Little Vic. From an early age, our girls are supported by well-qualified, experienced, nurturing teachers that introduce them to a broad curriculum, through a mix of exploration, games, investigations and more formal learning sessions. As they journey through the school, they continue to be challenged in all areas; being ambitious and aiming high is embedded into the ethos of the school.
As I lead the Old Vicarage School into a new chapter in its 92-year history, I look forward to continuing its success, giving girls the confidence to achieve the high standard of which they are capable and recognise the depth of opportunities available to them. Old Vicarage girls leave the school to become a new generation of confident young women that will make a significant difference and contribution to our global society. As a parent, I can think of no better start that I could give my daughter, no better return on my investment than such a special start in life at the Old Vicarage.
Mrs Clare Strickland – Head