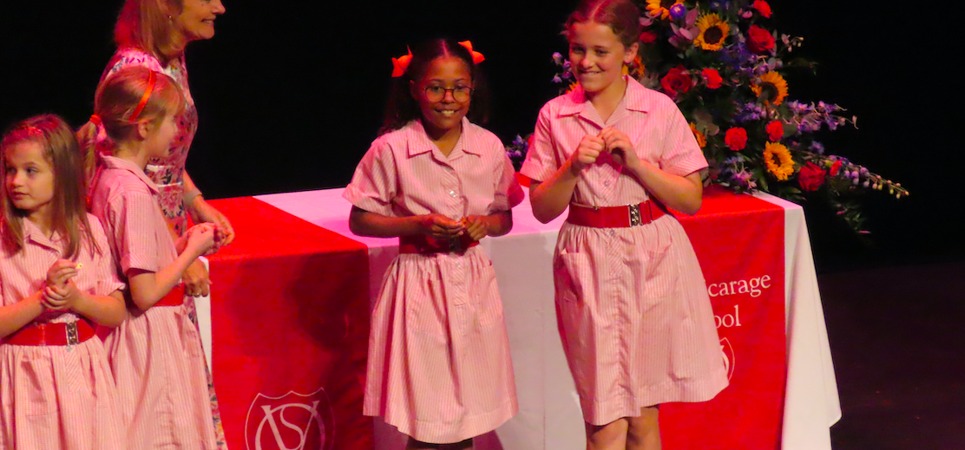 Prize Giving
With the stunning back drop of Richmond Theatre, The Old Vicarage School Prize Giving 2023 celebration was held on Wednesday 5th July.
With beautiful performances from our youngest girls to our year 6 leavers, guests were treated to wonderful music compositions and there was certainly much to celebrate.
Even our inspirational guest speaker - Olly Belcher (www.shivia.com) was herself an Old Vicarage Girl, returning to share her experiences working within the charity sector, with a new generation of the Old Vicarage.
The highlight of the day was the presentation of awards, rewarding Achievement, General Progress, Kindness and Courtesy and Endeavour.
Year 6 Scholarships and Awards:
6 Academic Scholarships - Surbiton High School
Academic Scholarship - Putney High School
Academic Scholarship - The Lady Eleanor Holles School
Impact Scholarship - Ibstock Place School
Academic Scholarship - St Catherine's School Academic
Art Scholarship - Downe House School
Lastly congratulations to all our Year 6 leavers, we wish you every success at your new schools:
Downe House School
Epsom College
Francis Holland Sloane Square
Godolphin And Latymer
Ibstock Place School
Latymer Upper
Putney High School
St Catherine's School
St James Senior Girls' School.
St John's School Leatherhead
St Mary's School Ascot
Surbiton High School
The lady Holles School
Wimbledon High School